Before hiring developers in-house, CEOs and business owners should weigh their options between recruitment and outsourcing software development. Nowadays, it's easier than ever to find strong developers through technology partners who can supply senior-level talent and a trustworthy team to develop your projects to the finish line. Let's take a look at the criteria to consider when asking yourself the question, "Should I hire or outsource?".
A CEO's Perspective: When To Hire In-House or Outsource Software Developers
Julia Dreiko - Strategic Account Manager
5 minutes read
Before hiring developers in-house, CEOs and business owners should weigh their options between recruitment and outsourcing software development. Nowadays, it's easier than ever to find strong developers through technology partners who can supply senior-level talent and a trustworthy team to develop your projects to the finish line. Let's take a look at the criteria to consider when asking yourself the question, "Should I hire or outsource?".
As a CEO or digital agency leader, one of the most important decisions you'll make is how to masterfully build, grow and nurture your team. After all, it's the people that ultimately create great products and services. But that doesn't necessarily mean you always need full-time, in-house employees to achieve success.
Digital agencies have come a long way from outsourcing development tasks to far-away countries. Businesses in the DACH region are increasingly relying on the new generation of nearshoring practices—finding a competent technology partner nearby who can provide cost-savings in staffing, without sacrificing world-class levels of coding, project management skills, communication skills, and domain knowledge.
In order to fill local talent shortages, many German, Swiss and Austrian digital marketing agencies are turning to reputable vendors in countries like Poland. For instance, technical skill shortages in Switzerland's job market make it increasingly rare and expensive to find the right experts or specialists in niche fields. Even German technology epicenters like the city of Berlin still face tens of thousands of unfilled roles in digital product development teams,
When is it time to Nearshore?
So, when it comes to building your technical teams, should you hire or outsource? Here's our criteria to help CEOs and owners make their decisions based on our 14 years of experience working with digital agencies on a global scale:
When you're an early-stage or startup company
If you're an early-stage company, startup, or small business, chances are good that your company lacks a few core competencies. For example, you may have strong financial roles, business development or sales teams. But what about your UX/UI developers, frontend designers, or backend experts? Do you have quality assurance specialists and testers? Do you have a project manager who can manage the day-to-day technical schedules of your startup? Do they have what it takes to plan changes with agility, and optimize developer hour usage? All of these roles are potential opportunities for outsourcing, and digital partners like our team at Polcode have them available on-demand.
When it gets harder to hire top talent
Most outsourcing blogs will recommend that you "keep your core competencies in-house." This was very true in the past, and it's not entirely wrong. Hiring leadership roles like CTOs and CFOs can go a long way if they are deep crucial to your business's success. But increasingly rare (and therefore expensive) skills, like PHP development, can also cost you an arm-and-a-leg to keep in house. Some digital agencies don't have an IT department in-house at all, and their digital production is outsourced entirely. Our partnership with Hidden Profits Marketing shows that it's completely possible (and extremely agile) to nearshore an whole-IT team, able to run all aspects of a product development cycle from the ideation phase to market launch and beyond.
When you need collaborators, not robot-coders
Just like hiring in-house, you want a developer-partner who is also a good fit for your business. This means you're on the lookout for good communicators who also happen to be senior-level experts at their technical jobs. Good remote communication involves being comfortable with face-to-face online meetings, frequent calls and daily standups. The idea scenario is that your outsourced resources become more like an extension of your team.
When you're offshoring far away
Off-shoring development tasks was once so economically viable that a quality drop or lack of strong communication would still win in a cost-benefit analysis. But the COVID-19 pandemic has shown that offshoring far from home carries geopolitical risks which should be assessed before outsourcing. Challenges like failure to deliver, work-from-home challenges, extremely long delivery periods, cultural gaps, and inability to fly between locations has more companies in the EU and Switzerland moving their development resources nearby. Gartner reports that more than 25% of companies who offshored before 2020 will move their services onshore, closer to home, and to mature country locations in order to mitigate risk.
When you need a controlled budget
To put it simply, our experience shows that DACH-based companies require at least 50% more in salary expenses than working on contract with a developer-partner in Poland—for the same set of skills. This does not include all of the other variable costs of hiring: equipment, licenses, training, onboarding, training and events. Keep in mind that this assumes you can find the developer in the first places. Add lengthy recruitment processes to the costs of hiring, and the argument for outsourcing some roles becomes clear. A strong remote developer firm offers flexible working models that scale up whenever you need the resource, and scale down when you need to cut back. Controlling a tight monthly budget is one of the strongest arguments for nearshoring software development.
When your scope changes frequently or deadlines are impossible
Nearly all software development projects have peaks and valleys for when resources are needed most. In-house teams are great for driving and maintaining huge, megalithic software businesses. But what if you have a smaller project that might only take months to kick off? What if you're in the proof of concept phase? What if you need a fast version of a digital product to quickly validate on the market, before going all in? If your scope is smaller (or just unknown) then hiring a remote, outsourced team can take the pressure off of committing to the long-term investment of hiring. A strong nearshore partner can get you the code quality you need, within your challenging deadlines, without setting fire to your budget.
When you need an app or website developed quickly for a campaign
Running a new digital marketing campaign for your client? Chances are that you'll need to deliver a website or mobile app quickly. Hiring from your outsourcing partner lets you save money by consolidating costs only for the duration of the project, without having to pay a continuous salary for in-house developers. This also allows agencies to entirely skip the recruitment phase, as outsourcing partners can offer the appropriate talent for your needs within days.
When you need to reduce cultural or time zone barriers
Digital agencies are used to working around the clock, on hours that are most important for their clients. Hiring a nearshore team in your company's time zone decreases the stress on your in-house employees, allowing them to work more 'normal' hours during meeting times. Shared time zones, holiday schedules, and close proximity make for easier work-life balance, which is often overlooked when distributed teams need to be in daily communication with each other.
When you want to shore up off-shore risks of compliance and security
Handling your customers' personal data and securing your proprietary business IP can be tricky to handle with outsourced teams. Certainly the process is much easier with nearshore developers, who are greatly familiar with developing apps that comply with GDPR regulations and your local data compliance standards.
Thinking about Hiring vs. Outsourcing?
Polcode is a trusted developer house that strives to provide a better experience beyond traditional IT outsourcing. Our 5-star reviews on Clutch.co and 99% Job Success on Upwork are a testament not only to the quality of work we provide, but also our ability to become an integral part or your team, working towards your growth and success as passionately as your own internal teams.
Get our Free Nearshoring Ebook
On-demand webinar: Moving Forward From Legacy Systems
We'll walk you through how to think about an upgrade, refactor, or migration project to your codebase. By the end of this webinar, you'll have a step-by-step plan to move away from the legacy system.
Watch recording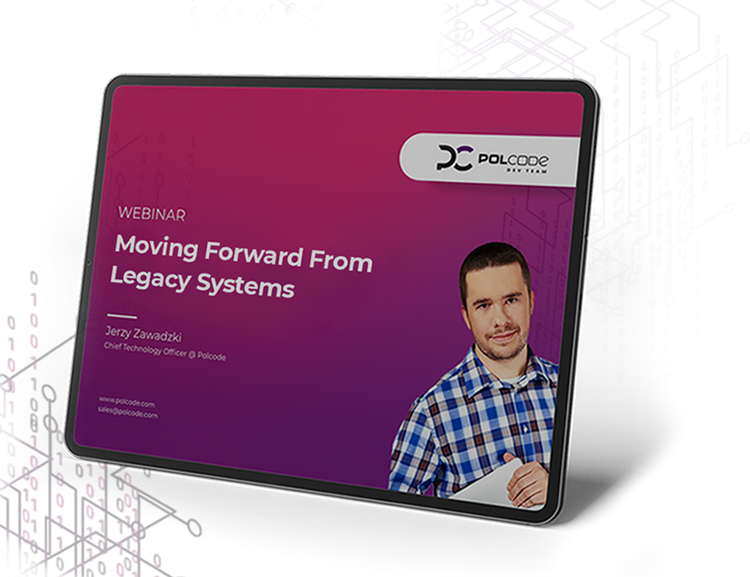 Ready to talk about your project?
Tell us more
Fill out a quick form describing your needs. You can always add details later on and we'll reply within a day!
Strategic Planning
We go through recommended tools, technologies and frameworks that best fit the challenges you face.
Workshop Kickoff
Once we arrange the formalities, you can meet your Polcode team members and we'll begin developing your next project.