When it comes to high cart abandonment rate, the majority of online merchants could be divided into two groups – those who struggle with it and the others who… don't know that they struggle with it. The few that did manage to significantly reduce it enjoy a great competitive advantage, selling a lot more even when their site traffic isn't particularly impressive. Let us give you a few hints on how to join them.
68.63% – this is the average cart abandonment rate calculated based on 33 different reports and studies collected by the Baymard Institute. Just in case you have any doubts, it means that almost 70% of all visitors of your eCommerce website add items to their shopping card, start the checkout process and… drop out before they are done, ultimately having failed to make any purchase!
This single statistic shows that almost every eCommerce website greatly suffers due to high abandonment rate. What's more, there is a host of possible reasons why it happens. Scary, isn't it? But at the same time the stunningly large number holds a promise – it means that providing you can improve your checkout process, you can greatly increase your sales.
Why do people abandon their carts?
Statista provides us with a list of the most typical reasons that contribute to high cart abandonment rates:
Visitors are presented with unexpected costs during checkout (56%).
Visitors merely browsed your website out of boredom and never meant to complete the checkout (37%).
The navigation of your website, and the checkout process specifically, is too complicated (25%).
The website crashed (24%).
The checkout process took too long to complete (21%).
Putting the 'boredom'-related reason aside, it's easy to notice that you do have influence over the majority of things that cause high cart abandonment rate. At its most basic, there are two possible routes for you to approach this problem:
Improve your website/checkout in order to eliminate its flaws and allow people to convert more conveniently/rapidly.
Introduce measures that will allow you to follow those people that dropped out and try to persuade them to return.
We're now going to get to the nitty-gritty of improving your cart abandonment rate issue. The more customizable/extendible your eCommerce platform is, the more of what we'll show you can be achieved without meddling too much with your code. Magento is the single most popular and customizable eCommerce platform. A lot of our advice will thus be especially easy to implement in Magento, but at the same time they are general enough to be implemented (with more or less effort) just about anywhere.
Performance-related cart abandonment rate strategies
Find obvious flaws in your multi-page checkout process using Google Analytics
In our most recent article, we provided an overview of the specialized eCommerce tracking capability of Google Analytics. One of its most interesting features is the ability to create and analyze sales funnels. If your checkout process consists of a few pages (for example, an order summary page, confirmation page, payment method page and delivery form page), you can set all of those pages to be subsequent steps of your sales funnel. Each time your visitor enters the sales funnel, Google Analytics will follow them and provide you with information on how much time they spent on each step and, most importantly, where they abandoned it. If it turns out that a specific step has a much higher abandonment rate, it's most likely seriously flawed, greatly contributing to your high cart abandonment rate. Some of the obvious flaws may include:
It contains information that made the visitor reconsider their purchase (hidden costs, lack of preferable delivery method).
It's difficult to read or counter-intuitive.
It loads slowly.
Read the eCommerce tracking article to learn how to set up the abovementioned sales funnel.
Use split testing (A/B testing)
In addition to the sales funnel analysis, you can further leverage the power of analytics by conducting split testing. Every time you have a feeling that a certain piece of your checkout process may be to blame for the cart abandonment rate, you can (and even ought to) test the feeling by producing a new version of the page ridden of that particular supposed flaw and then serve both versions at the same time. This way, you can actually find out whether your feeling had anything to do with reality.
Google Analytics calls its A/B testing feature the "content experiment." You can find the right option under the "Behavior" tab.
Pick "Create experiment" and fill in the form. If you simply want to find out which version of your checkout process page will convert users into buyers more efficiently, you should pick the "Create a new objective" option and set up a new goal with your receipt page (which displays when the checkout process is completed) as the destination URL. Review our eCommerce tracking article to find out how to set up a goal. Of course, in order to conduct a content experiment, you need to have two versions of your website ready to begin with. During the setup process, you will be able to assign a percentage value to each version. This value indicates how much of your overall traffic will be directed to each version.
Consider the pros and cons of multi-page and one-page checkouts
The multi-page vs one-page checkout process debate is still ongoing. Some studies indicate that the one-page checkout process is more effective and contributes to lower cart abandonment rates. Some of the common advantages include the speed of the process (there is no need to load many pages), easier navigation and the psychological factor related to the fact that the user clearly sees how much work there is left to do. But it also seems that most of these studies pitted well-optimized one-page checkouts against non-optimized multi-page ones. The multi-page checkout also has its advantages, which include:
The ability to collect leads – even if the user drops out, chances are they will leave their email behind, making it possible for you to use remarketing. With a one-page design, unless the entire form is sent, no email is collected.
You can find obvious flaws more easily – with a one-page checkout you can still use A/B testing, but it's not possible to set a sales funnel.
The decision is up to you. We recommend you don't switch to a one-page checkout in a rush. It's worth it to split test them as well as optimize each of them separately.
Follow them!
The second group of tactics you can use to improve your cart abandonment rate includes various ways to get back the users that dropped out. What exactly can you do?
Send email notifications that include details of the order that was abandoned along with a convenient link that allows the user to return instantly. Here we'd like to point out that if your website doesn't require the user to set up an account, a one-page checkout may prevent you from ever getting the email address of your user.
Enhance your offer by offering discount coupons that may convince the users that were on the fence.
Use the opportunity to ask the user why they dropped out. It's an alternative way to optimize your cart, without having to use analytics. It's best though to use both simultaneously.
Improve your Magento website with powerful extensio

n

s
If your eCommerce platform of choice is Magento, you can conduct any of the tactics described above using a host of powerful extensions. There are many of them and it's best to visit the Magento Extension Marketplace to find them all as well as read through the many reviews left by other users. Remember that some expensive extensions may be of better quality, but at the same time include many features you will never use. Pick one that has all that you need, but not much more. This way, you can get the best price per value. Having said that, we consider the following two extensions safe bets.
OneStep Checkout
With OneStep Checkout, you can easily turn your six-step Magento checkout process into a one-page checkout. It's fully responsive and allows the user to enter discount coupons directly on your site. Make sure, however, that a one-page checkout is what you need as this quality extension comes at a hefty price.
Abandoned Cart Alerts Pro
With Abandoned Cart Alerts Pro, you can follow all of the steps described above to follow your visitors, including automated and fully responsive emails enhanced by discount coupons. It's a surefire way to take your checkout process to the next level.
Cart abandonment rate is a large problem for eCommerce websites, but at the same time a chance for ambitious merchants to get themselves ahead of their competitors easily, as the room for improvement is really quite substantial. Alternatively, you can contact Polcode to have us improve your existing site or develop a whole new eCommerce platform so that you can enjoy a low cart abandonment rate right off the bat.
On-demand webinar: Moving Forward From Legacy Systems
We'll walk you through how to think about an upgrade, refactor, or migration project to your codebase. By the end of this webinar, you'll have a step-by-step plan to move away from the legacy system.
Watch recording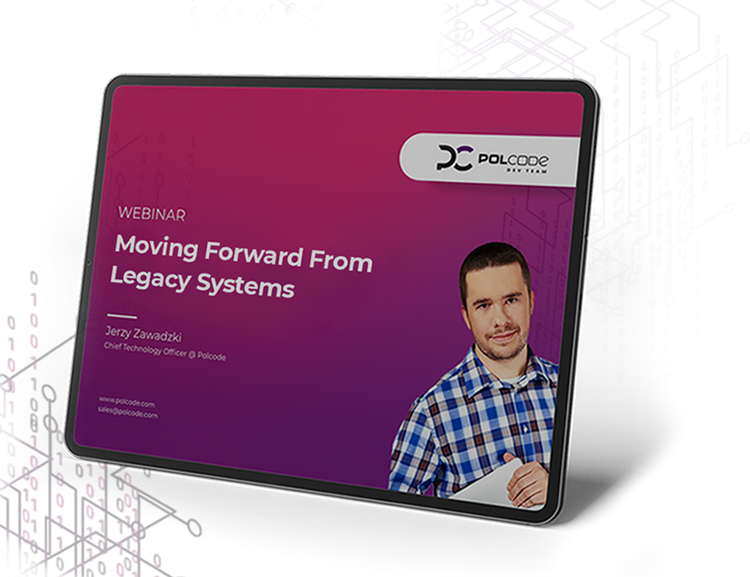 Ready to talk about your project?
Tell us more
Fill out a quick form describing your needs. You can always add details later on and we'll reply within a day!
Strategic Planning
We go through recommended tools, technologies and frameworks that best fit the challenges you face.
Workshop Kickoff
Once we arrange the formalities, you can meet your Polcode team members and we'll begin developing your next project.